Chris messaged us two weeks ago informing us of her intention to celebrate her birthday with us at WIP Bangsar. She had decided to have lunch with us as she would like to have dinner with her boyfriend. Time is of the essence for her considering the fact that she works in Singapore and have limited days in Malaysia.
Lunch we go on a hot Saturday evening. According to her it has been raining a lot lately in Singapore and she has been deprived of sunshine! Therefore she insists that we sit outside in order to get the rays! T.T
Tell you, it was scorching hot when Anne and I arrived at WIP!! I was literally melting... like an ice cube..
Well, its her birthday and she ets to decide what she wants right! So, in order to make myself feel cooler, I ordered a pint of beer since people always say beer can cool you down on a sunny day!
Happy birthday Chrissy!! ;)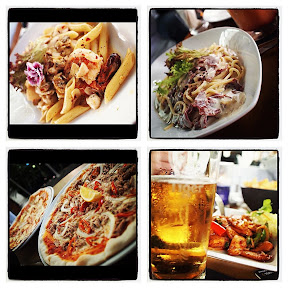 Thanks for the lunch!! ;)
Muahhhhhh! ;)
I seriously thought that we are gonna have indoor lunch and so I put on my jacket before I left home. When I arrived at WIP, its removed from my body and being placed on my lap to shelter my shabby thighs!!
The chios!
Happy birthday again! Muahhhh
- Posted using BlogPress from my iPhone